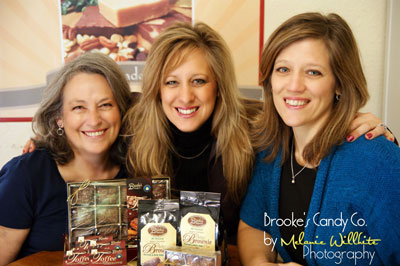 Welcome to Brooke's Candy Co.
Handmade by a Mother Daughter team using the World's Finest Belgian Chocolate
Brooke's Candy Co. Fudge and Toffee have both earned the prestigious honor of displaying the Indiana Artisan Seal. This Seal is only awarded after a rigorous jury process.
In addition to our award winning fudge and toffee, we offer a variety of tantalizing goodies all lovingly handmade with the the finest ingredients. Try some for yourself! Or, if you are willing to share, they make great gifts for your family and friends, weddings, corporate events, wholesale or any special occasion. Our products are "Gluten- and Rice-Free".
SHOP WILL BE CLOSED NOV 29-30 FOR HOLIDAY
SHOP WILL BE CLOSED DEC 24, 2013 THRU FEB 6, 2014
Visit us on FACEBOOK for all the latest information. Thank you!